WE ARE LOOKING FORWARD TO YOUR VISIT
Experience the famous Arabian hospitality at a table with a cup of tea and the variety of Lebanese GOURMET FOOD. Those who eat and drink with us enjoy – and usually find time for relaxed conversations and stimulating thoughts. It is not unusual to forget the time and feel like … exactly: like in 1001nights.
LEBANON WORLD FOR THE SENSES
THE

LAND OF

CEDARS, CULTURE AND CUISINE
The seafaring Phoenicians were already aware of the beauty of the region on the Mediterranean Sea, which today comprises the Lebanese Republic. The cultural heritage of this small country is unusually rich, with over 20 UNESCO World Heritage Sites, among others, and the impressive landscape ranges from rugged mountain ranges and vast cedar forests down to beautiful sandy beaches.
In Lebanon, culinary arts, culture and tradition are inextricably linked. This includes the fact that many dishes are prepared according to sometimes centuries-old recipes, and Lebanese cuisine uses typical Arab spices with care and love. Do you want to indulge your senses with unique aromas, fascinating scents and fabulous flavors? Then you should definitely visit us at ARABESK.
A GLIMPSE INTO LEBANESE CUISINE
When the Old Testament was written, the cuisine of Lebanon was already famous. Since then, it has influenced the taste of almost the entire Arab world – not without reason, because the variety of flavors, the sophistication of the exotic dishes and not least the wholesomeness of the oriental dishes have caused the fans and lovers of Lebanese cuisine to grow steadily far beyond its borders. In Munich, its triumphal march began at the latest in 1984 with the opening of ARABESK – the first Lebanese restaurant in the Bavarian capital.
Of course, Arabic food also tastes good on its own, but: together with friends or family, the dishes become a delight, because eating in Lebanon is usually a social affair and meals are almost always eaten together.
Whether in the restaurant or as catering: Especially in these hectic times the ARABESK is a guarantor for culinary highlights and a few hours of "welcome time out".
A journey through the Lebanese cuisine can fill books, so we present here only a few "celebrities":
Shorbat Adas: Arabic lentil soup with onions and spices.

Falafel: Deep-fried balls of mashed broad beans and chickpeas.

Mäsä:

Mainly vegetarian appetizers, hot and cold.

Tabbouleh:

Salad of fresh leaf parsley with cooked wheat grains, tomatoes, and onions.

Hummus: Chickpea puree with sesame seeds.

Kibbeh Maklieh: Deep-fried wheat meal balls with minced meat and onions.

Shish Tawoouk: Grilled skewers with marinated chicken fillets.

Yachnet Sabanegh bil lame: lamb, spinach, onions and fresh coriander in Arabic herb sauce, served with rice.

M'Halabia: Arabic milk pudding.
Among the most popular drinks in Lebanon are tea and strong Arabic coffee, often flavored with cardamom. In addition, the "land of cedars" is a wine-growing region – we recommend wine from the Bekaa Plain, among others.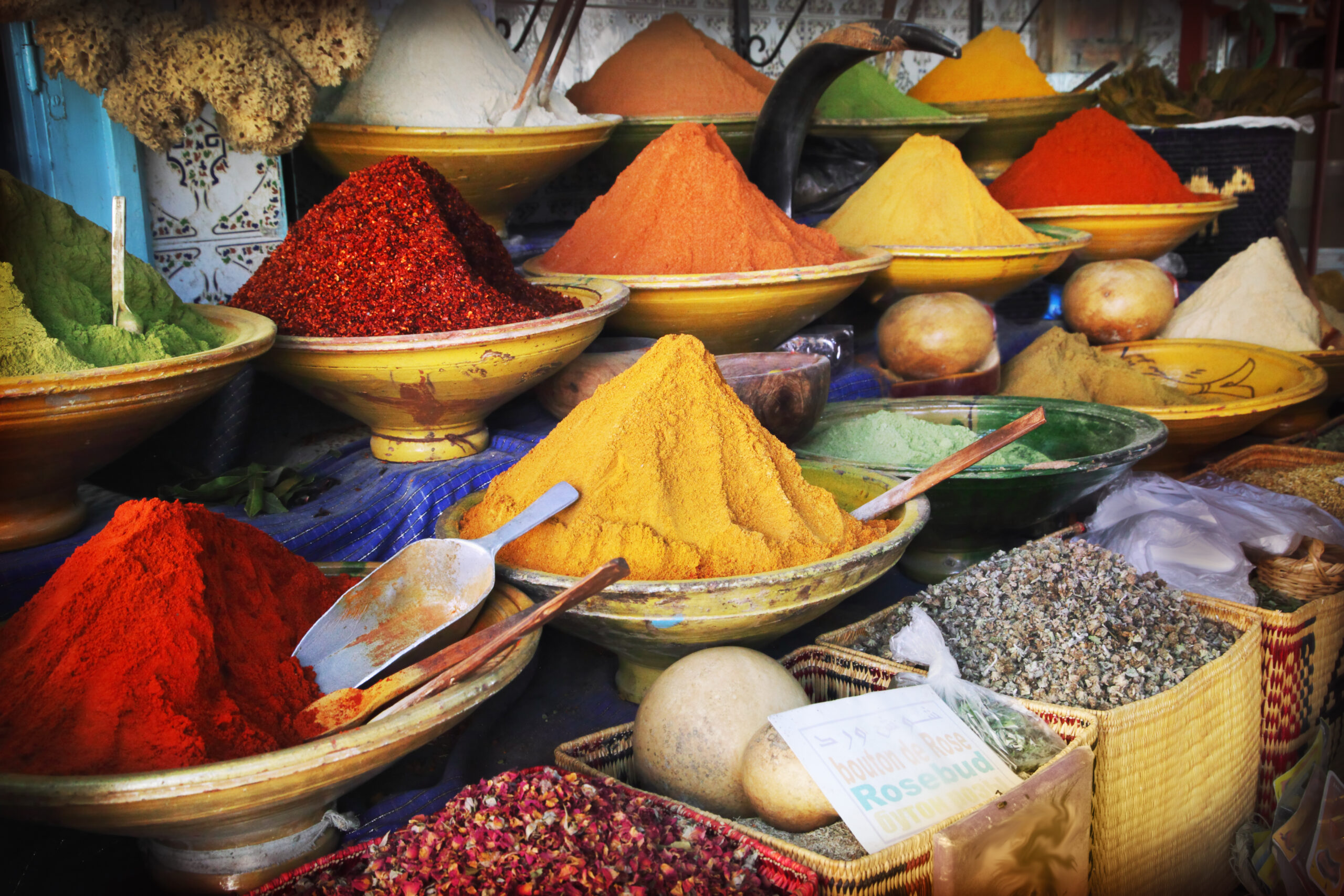 Sabah Baharat is the name of the spice mixture consisting of the seven spices cinnamon, black pepper, ginger, nutmeg, allspice, coriander, and cloves. Other typical spices of Lebanese cuisine are cardamom, caraway seed, cumin, star anise, black pepper, sumac, paprika and fenugreek seeds.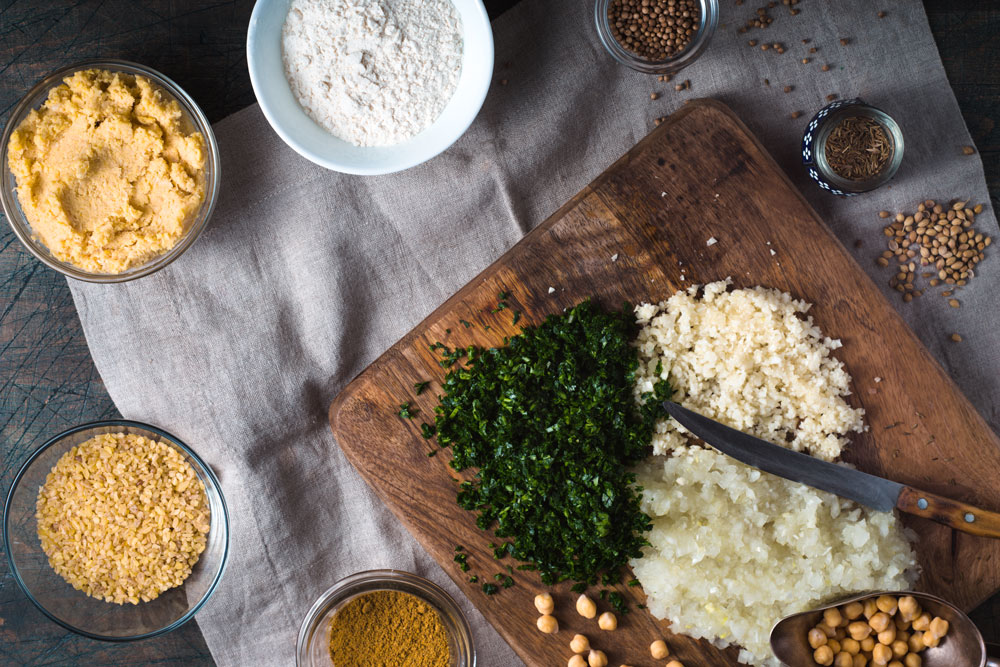 Beef, lamb, chicken, and fish is popular for casseroles and stews. Yogurt, the paste tahin, bulgur, legumes such as lentils and chickpeas – and of course vegetables and fruits: the diversity of Lebanon's cuisine is also reflected in the countless combinations of ingredients.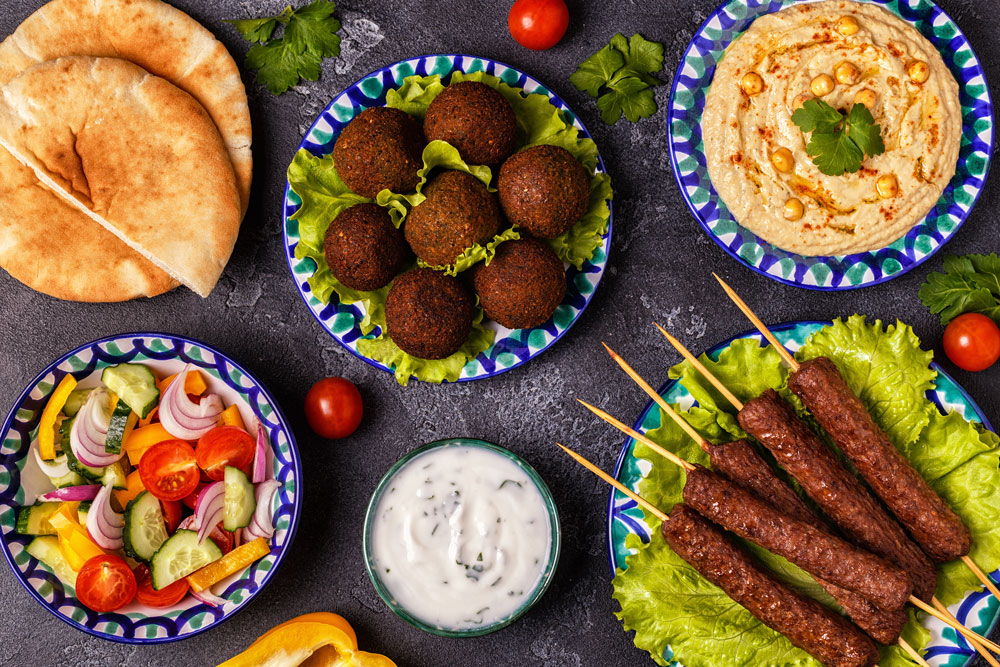 There are now excellent cookbooks and Internet portals where you can find traditional and modern recipes of Arabic food culture and Lebanese cuisine. But if you're lucky as a guest at ARABESK, you might even get a first-hand recipe.
LIBANESE ARABESK MEALS AT THE RESTAURANT
Enjoy Arabic cuisine in an authentic oriental ENVIRONMENT in our restaurant ARABESK. An experience like in 1001 nights, which you will not forget.
HOT RECOMMENDATION FROM ARABESK
Appetizers with hummus, example of order number and description of the ingredients, main course recommendation with description, vegetable recommendation and number of the dish and a special dessert with recommendation for tea.
WHETHER RESTAURANT, HOME, EVENT OR TENT – THE MAIN THING IS ARABESK
We want to inspire and spoil you with our dishes, but also with our attentive service, an honest smile and with the incomparable atmosphere of the Orient – no matter if we welcome you in the restaurant ARABESK or if we accompany your celebration or event according to your wishes or if we organize it from A to Z. We promise you not only the "magic of the Orient", we will bring it to you for sure.
ENJOY LEBANESE SPECIALTIES IN ARABIC ENVIRONMENT
WE BRING THE ORIENT TO YOU – LEBANESE SPECIALTIES ON SITE
CELEBRATE ROYALLY IN A LUXURY TENT – AN UNFORGETTABLE EVENT